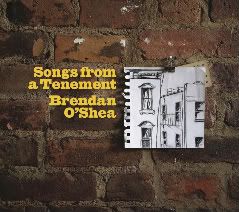 Jenna Nicholls "Curled Up Toes in Red Mary Janes"

Just as unhurried as it is precious and reflective. The atmosphere is serene; you'll pick every word that is uttered and find a world that normally goes at a million miles an hour slow to a relaxing canter.


Michael Brunnock's "So I do"

Contemporary folk rock, lyrically charged, Neil Young meets Coldplay on a bus while on vacation in Ireland. The bus driver plays the banjo.


BRENDAN O' SHEA: Be Here Still

Picture an Irishman, in New York, standing with arms open wide....telling you the kettle is on and he's got something he wants you to hear.


BRENDAN O'SHEA: In The Light

Contemporary folk music with poetic words and images.


Michael Brunnock's "Little Palace":Album Whole

Little Palace's Debut Album ...Acoustic Folk Rock - Hint of Irish being that I'm Irish .Theres even a song in Gaelic, songs from the heart....Now available on itunes


Michael Brunnock's "Little Palace":EP BeeKeepers

This four song EP was recorded with Michael's original band Little Palace...Now available on itunes


| | |
| --- | --- |
| | Mark Dignam: Box Heart Man....Now available on itunes |